Our customers
More than 200 universities from Great Britain, the Netherlands, Germany, Belgium, Aruba and Suriname use our management simulation games in their courses. Together, these universities are responsible for approximately 19.000 students on a yearly bases.

Over 400 companies and governmental organizations use our simulations and e-learnings for MD courses, marketing, traineeships and recruitment tools.

Leeds Business School
The Leeds University Business School uses ProSim Advanced with undergraduate students.

ING BANK
The worlds largest bank and insurance company uses our games to educate their employees in focussing on customers.

Liverpool John Mores University
Master students Strategic Management use our customized strategic management simulation to practice their strategic skills.

Pearson Education
Together with publisher Pearson Education we created and marketed several simulation games for numerous universities.

Ernst & Young
Ernst & Young uses our simulations for:
- recruitment
- assessment
- inhouse days
- Due Dilligence training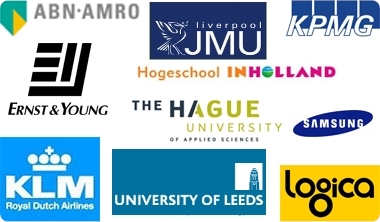 More information
Some of our customers:
Ernst & Young - University of Leeds - ABN-AMRO - KPMG - Deloitte - Pearson Education - Liverpool John Mores University - Sellafield (Windscale) - Amsterdam Business School - Astra Zeneca - GoodYear - AEGON - The Hague University - ING - Texaco