Supply Chain Game
Have you ever experienced difficulties in the relationship you have with your supply chain? Are you curious about the types of decisions your chain partners are faced with? Do you want to improve you understanding of the effects which decisions made in a supply chain have upon the overall operation of your business?

Then this is the game for you!


The game
For the duration of the game, participants assume the role of either a producer, a logistic service provider or a retailer of the product cheese. They all seek to negotiate good contracts with other players to obtain the best results for their enterprise. As the effects of decisions are felt, the importance of collaboration in the supply chain will become clear to all. How do your profits develop? Is your service level up to standard? How large is your company's ecological footprint? Are your results as good as expected or have your partners let you down? Asking such questions allows players to improve strategy in the next round of contract negotiations!

This simulation has been developed in cooperation with the University of Tilburg (the Netherlands) and the logistic experts from Ortec BV.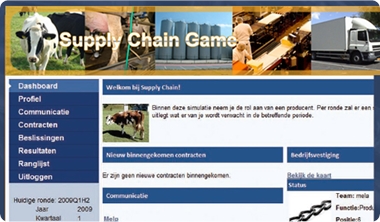 More information
Fast facts
- Supply chain of cheese
- Play producer, LSP or retailer
- Play in teams
- "On site" or distance learning possible